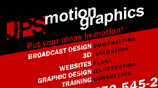 Client: JPS Motion Graphics

Project: JPS Motion Graphics Web Site Hosting

Overview:
JPS Motion Graphics selected Rhubarb Productions as their web host for their Multimedia design web site.


Description:
Here's some of the comments we've received:
"Many thanks O Digital Master."
- JP Stamos, JPS Motion Graphics
* All content presented here is owned by the copyright holder and is used with permission.