Process = Success
The development process is something that can, and often does, spin out of control if no one is keeping things organized and on track. Not only is Rhubarb Productions able to handle your technical needs, we also take the headache out of project managing your web site, CD-ROM, kiosk, etc. We take that worry away by keeping you apprised of project activity every step of the way so there are no last minute surprises.
Our process begins with putting the project's foundation in place, transforming your concept into its essential points and structuring it so that all of your goals are achieved. This is used as the basis for the content development and organization phase, which evolves to design conception and development, and closes with the implementation the project.
This process ensures order, efficiency and topline results to meet your needs and expectations.
Development Site
Rhubarb Productions provides a staging environment that you can view at your leisure to see the latest progress of your project.

Approvals
– Your approvals serve as the trigger for the next phase and are used to keep the project on schedule. At various points you can make any final decisions that affect the current phase of the project before moving on to the next. These are important to ensuring that the project reaches completion on schedule and on budget.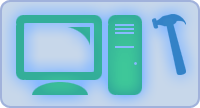 Testing
– This phase begins as soon as testable materials are available. Test versions are periodically presented to you so that you can be comfortable with the performance, features, and content of the resulting project. Since this task happens throughout, earlier test versions will only be partially complete, but this allows the schedule to run more smoothly without a large amount of problems immediately before delivery.

Delivery
– Depending on the type of project, you may need to consider how your multimedia experience will be delivered and how the timeframe of delivery affects the overall schedule of the project.
So, what sort of results do you get after all this work.
Click Here
to learn more about our multimedia solutions…