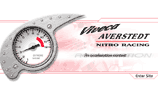 Client: Viveca Averstedt Nitro Racing

Project: Viveca Averstedt Nitro Racing Web Site

Producer: GRM Creative

Overview:
This very talented dragster team was looking for a web presense that conveyed a sense of speed and championship. While providing information to potential sponsors the site also let vistors see the dragster in action through Quicktime videos.



Description:
Here's some of the comments we've received:
"Our website looks great, we are so excited what the future can offer us!"
- Viveca Averstedt, Viveca Averstedt Nitro Racing
* All content presented here is owned by the copyright holder and is used with permission.